DOUBLE-SELFIE: ME POINTING TO PASTEL-DRAWING MY MOTHER DID OF ME WHEN I WAS 7 YEARS OLD
Rewriting Illness: A View of My Own
"Memoirs of serious illness are often good suspense stories, and this one is a page-turner…" Sigrid Nunez
"Benedict whips language around like a gunslinger…."

Boston Globe
NOW In The Millions, read my essay, "On Writing (and Rewriting Illness)" 
________________________
Writing About Grief… A Panel Discussion 
July 2022–Back for the first time since the pandemic, the Martha's Vineyard Islanders Write conference is on July 31 and August 1. I'm leading a panel discussion on July 31 at 1:30pm on the challenges and urgency of writing about grief with two wonderful writers, Vineyard treasure Nancy Aronie, whose Chilmark Writing Workshop is legendary, and Marissa Nathan Gerson, author of Forget Prayers Bring Cake: A Single Woman's Guide to Grieving. After releasing a 2018 ELI Talk on consent and Talmud, she founded KenMeansYes.Org to address the need for consent education in Jewish spaces. The writing conference is sponsored by the MVTimes, is free, open to the public and held at Featherstone. Please join us!
____________________________
Monogamy, Anyone?
"I think of it as one of those radioactive M-words, along with Mother, Money, Marriage, and Madness. Words that set off tripwires in our memories, that light up stories that are impossible to forget, the way a PET scan lights up cancer cells
"A word that is difficult to discuss in mixed company: people in relationships where monogamy is not a shared commodity. A word linked so intimately, so naturally, to the I-word, infidelity, that it can cut to the bone.
"A word whose most salient property is its fragility." TO READ MY NEW SALMAGUNDI ESSAY, NOTES ON MONOGAMY, CLICK HERE
_________________________
Words & Photos
April 12, 2022, NYC –I've always been fascinated with photography. The main character in my second novel, The Beginner's Book of Dreams, is too and goes to the Corcoran School of Art to study photography, long before I took my own photos. That changed a few years ago, and I take a lot of photos these days and sometimes sell them. One photo was on the cover of Salmagundi, two photos were chosen for book about preserving images of Miami once it's underwater, "Waterproof: Evidence of a Miami Worth Remembering," and in August 2021, I won two prizes at the All Island Art Fair in Oak Bluffs, Martha's Vineyard. I often get the photos printed on metal and display and sell them that way. In the Photography section is a smattering. A few more are on Instagram. Thanks for taking a look.
__________________
Thank you Suleika Jaouad & her Isolation Journals…
March 13, 2022, NYC — Read my chemo hair story and submit your hair story in response to my hair prompt in today's edition of The Isolation Journals.
______________________
Wall Street's Neglected Masterpiece – Dubuffet's Group of 4 Trees
Nov. 18, 2021–"Near the southern tip of Manhattan are a modern masterpiece and a trove of public sculptures by major 20th century artists that are hiding in plain sight. The first one that came to my attention – and the one that has my heart – is 43 feet high and painted black and white with a childlike whimsy. It's in need of some TLC, and like so many stories these days, my connection to it springs from the contortions of COVID-19.  READ THE REST
___________________
MV Book Festival Aug 7 ~ Torrey Peters' Detransition, Baby & Me — LiveStream Us!
Aug. 1, 2021 — I am still smarting from not having been invited to Barack Obama's upcoming 60th birthday party this weekend on Martha's Vineyard (475 of his closest friends, say media reports), but second best is the Martha's Vineyard Book Festival, from Aug. 5th to 8th, where I will be interviewing Torrey Peters, author of one of the year's most talked about novels, Detransition, Baby (One World/Random House), about how three women decide to raise a baby together under, well, unusual circumstances. MY INTERVIEW WITH TORREY PETERS IS SATURDAY AUG 7 at 12:15.
______________________________
Designated New Yorker: My COVID Diary
May 14, 2021–
Diary Entry: March 11 2020 ~~ Pilates class down the street at 11am, everyone on edge, most wearing masks and latex gloves. We do the exercises, wipe down our mats afterwards extra hard, though how can it matter if the bottles are filled with lavender-scented organic hippie soap instead of Lysol? Our teacher says she's not sure whether the class will meet on Friday. I'll let you know, she says. She had a fever last night and went to Urgent Care and had a test. I take a step back in horror and remember that she touched my fingers last week, showing me how to hold one of the bars. I slither out of the studio. READ THE REST JUST PUBLISHED IN SALMAGUNDI
_______________________
The Pleasures and Perils of Writing Memoir
May 14, 2021–Everyone has a life story, but when we sit down to write a memoir, there's much more to it than simply transcribing those stories. But what exactly goes into it? How do we find the storyline? Who exactly is the narrator? Do we have to wait for our parents to pass before writing about them?
I broached these and other topics with poet-memoirist HONOR MOORE on April 9, 2021, through the Luncheon Society. We had a far-ranging conversation that opened up to those in attendance. Now you can watch and listen in here!
Poetry, Prose & Longing: The Memoirs of Honor Moore
Nov. 9, 2020–I loved Honor Moore's newest memoir, OUR REVOLUTION, about her relationship with her beloved mother, and was lucky enough to have the time and space to consider her pair of memoirs about her extraordinary parents in my latest piece for Salmagundi, which you can read WHEN YOU CLICK HERE. And you can learn more about Honor Moore and her work at her website, RIGHT HERE.
________________________________________
Video: What Our Mothers Gave Us
May 13, 2020, NYC — If you missed our conversation last Friday night sponsored by How Writers Write, you can tune in here. I'm talking about gifts from our mothers with Katha Pollitt, Mary Morris, Margo Jefferson, Cecilia Muñoz, and Roxana Robinson. What are the gifts your mother gave you that are helping you cope with the current crisis?
Mother's Day Mini-Reunion
May 10, 2020, NYC — I hope to have a recording of our May 8th mini-reunion to post very soon. In the meantime, I'm happy to present the reflections of three contributors to What My Mother Gave Me, writing briefly about gifts from their mothers that are helping them get through the current crisis. Thanks to Cheryl Pearl Sucher, Luanne Rice, and Sheila Kohler.
May 7, 2020, NYC — Mother's Day is Sunday May 10, and we've been in #LockDown for two months, more or less, depending on where we live. Here in New York City, in the epicenter of the virus, we're a bit touchy, a bit fragile. About a week ago, I realized Mother's Day is almost here, and I guessed that many of us might be missing our mothers more than usual. I had the idea to reach out to some of the brilliant, wise women who contributed to What My Mother Gave Me: 31 Women on the Gifts That Mattered Most, and we're going to have a public conversation about gifts of all sorts from our mothers – and you're all invited – on Friday May 8 at 8pm ET. Please join me in talking to Katha Pollitt, Margo Jefferson, Roxana Robinson, Cecilia Munoz, and Mary Morris. It's free but you need to register HERE. And you can buy the book directly from the publisher and get a 20% discount from now until May 25th. At the checkout, enter the code MOTHERSDAY20 for the discount. Hope to see you on Friday! And if you can't make it, please register and you can get a podcast when it's over. ~Liz
________________________________________________
Monica & Bill 20 Years On
April 6, 2020, NYC — Last year, Robert Boyers, the editor of Salmagundi, asked me to write a piece on the occasion of the 20th anniversary of the Bill Clinton-Monica Lewinsky affair. It was strange to go back and remember — not that I've quite forgotten — the insanity of those days and months stretching into years. I got to reassess Monica Lewinsky, who has made something of a comeback in recent years — and take a hard look at the disparities between the men involved — Clinton and Ken Starr — and Ms. Lewinsky.
I hope you'll enjoy it – click here.
______________________________________________
"Do You Come Here Often?"
October 6, 2019, NYC — Two years ago, Matt Straus, the editor of a new magazine, Kitchen Work, asked me to contribute a piece for his second issue — anything to do with food.
Matt's full-time job and life's work is his celebrated San Francisco restaurant, Heirloom Cafe, which I have yet to visit. I'm not a food writer, and until recently, when characters ate meals in my novels, I never knew what to serve them. But times have changed, and I've become enough of a foodie to throw around terms like "fiddlehead ferns drizzled with truffle oil" with the best of them.
I confess: I'm not an enthusiastic cook, but I'm a champion restaurant customer, and as I wondered what to write for Matt and Kitchen Work, I remembered the upscale New York City restaurant that caught my adult eye, the Park Avenue Cafe, which led to remembering "restaurants in my past," which led to the piece I wrote for Matt: "Do You Come Here Often?"
It was selected as a Notable Essay for The Best American Essays 2018, and Matt recently posted it on his website. Click here. And enjoy! Thank you for reading.
_______________________________________
Summer's Here and I'm Busy
July 18, 2019, NYC — I'm ecstatically happy to be so engaged when I get to Martha's Vineyard on Saturday. This is the line-up of my events that combines two of my lives: college essay coach and novelist/critic.
Thursday July 25th – Applying to College in the Age of Scandal and Stress. Q/A with cookies (!) at the Edgartown Library, 26 Edgartown-West Tisbury Road, 7pm. Free. If you miss the Q/A, drop me a line: Liz@DontSweatTheEssay.com or call 1-855-99-ESSAY
Saturday August 3 10AM – I'm moderating a panel discussion at the Martha's Vineyard Book Festival that you will not want to miss!
Fiction: Transformative Friendships — Some of the most meaningful relationships are the deep friendships that stay with us our whole lives. These novels focus on friendships and non-romantic ties. Stephen McCauley, Sigrid Nunez, Richard Russo, Gary Shteyngart
Sunday August 4 9AM – I'm introducing Stephen McCauley, celebrated novelist and author of one of last year's most winning novels, My Ex-Life, about a formerly married couple who meet again in different lives, in middle-age. Funny, poignant, peerless. Several of his novels have been made into films in France.
Sunday August 4 12:20PM My conversation with Sigrid Nunez, whose novel The Friend won the National Book Award last year. The novel was an Indie bestseller and made dozens of lists of Best Books of 2018. If you haven't already read it … now's the time.
Monday August 12 – 4pm – I'm moderating a panel at Islanders Write 2019 at Featherstone Center for the Arts, HOW TO WRITE A SEX SCENE, based on my book, The Joy of Writing Sex: A Guide for Fiction Writers, which has been in print continuously since 1996 (when sex was invented). Free and open to the public. The conference is from 8am to 5pm.
______________________________________________
Upcoming Readings & Photo Show
June 23, 2019, NYC — I'm reading a new essay about the Clinton-Lewinsky affair 20 years later, on opening night, Monday July 1, at the New York State Summer Writers Institute (8pm), where I teach a fiction workshop every year. This summer, I'm also having an exhibit of my photographs at the Case Center called "Still Lifes & Furtive Photos" for the first week of July. On Tuesday July 2, I'm doing a Q/A about my work with Salmagundi editor, Robert Boyers. Founded almost 30 years ago by William Kennedy and Gov. Mario Cuomo, the month-long program is at Skidmore College, Saratoga Springs. On Tuesday night at the 8pm , July 2, I'm introducing the wonderful novelist James Hannaham. If you can't attend the exhibit and are interested in the photos, OR for any other reason, please shoot me an email: ElizabethBenedictOK@gmail.com
_____________________________________________________
Hair, Identity & LGBTQ Issues
May 20, 2019. Please join me Tuesday morning, May 21, at Kansas City NPR station KCUR 89.3 to talk on a panel about hair and identity as they relate to LGBTQ issues. From 11am to 11.40am EST you can listen to a live stream at kcur.org
I'm the editor of the 2015 anthology, ME, MY HAIR AND I: 27 WOMEN UNTANGLE AN OBSESSION. The first line of the book is: "Ask a woman about her hair and she just might tell you the story of her life." A PEOPLE PICK OF THE WEEK and lots more – personal essays about why we are all so crazy about our hair. Thanks for stopping by.
______________________________________________
J
What I've Been Up To Lately:
Jan. 05, 2019
The Joy of Writing Sex: A Guide for Fiction Writers, first published in 1996, has led me to all sorts of conversations and invitations. I've gotten letters about love from prisoners, accolades from writers I admire, and given workshops and talks at libraries, writers' conferences, and universities.
One of the more unusual invitations was to join a conversation about l'affair Clinton-Lewinsky, days after the scandal broke in January 1998.
In a New York City restaurant, I spoke with Erica Jong, Francine
Prose, Nancy Friday, Patricia Marx, and others, about our initial racy
thoughts on the titillating news of the President and the Intern.
Francine Prose wrote up the convo for The New York Observer, and I didn't think much about the article for 20 years.
My views, of course, changed radically as the story developed and
darkened in hideous ways. More recently, we've examined the matter
through the #MeToo lens, and that's now part of the story. But those
first few days were full of jokes and innuendos and saucy
what-would-you-have-done conversations.
Though it's hard to remember now, Clinton was something of a rock
star president, and his personnel decisions and policies promoted women
and women's rights. He's the guy who made Ruth Bader Ginsburg a justice
of the Supreme Court. Sitting around that restaurant table 20 years ago,
for that moment in time, we were wannabe groupies. The Observer piece captured that relatively innocent phase of the scandal.
Fast forward to the summer of 2018, when the media were getting ready to promote the 20th anniversary of Clinton's impeachment. Slate's popular podcast, Slow Burn, asked me to remember the scandal as we'd experienced it back then.
You can listen to the episode, "Bedfellows," free on iTunes. I'm talking at minutes 14.50 and 38.00, on Season2 Episode 7
Or you can read the Slow Burn transcript here.
Two months after Slow Burn posted, ABC's 20/20 asked
me to participate in a sort of repeat of that early conversation. It was
a much smaller group this time—Francine Prose, Lisa Chase, and I—and
the mood was decidedly different. The 20/20 show on the 20th anniversary of Clinton's impeachment airs on ABC January 10, 2019.
I'm writing this before I have more specific information on the broadcast. Watch this space or turn on 20/20 on January 10th.
___________________________________________
Ask a woman about her hair, and she just might tell you the story of her life.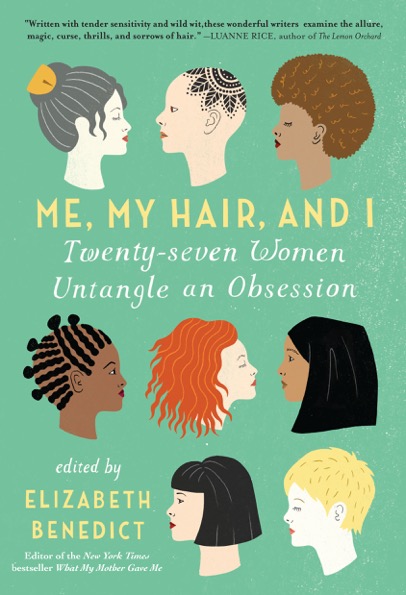 Me, My Hair and I is on sale now. It has garnered rave reviews in PW, Kirkus, and BookRiot, and mentions in Sheen Magazine and on many blogs. In advance of publication, a number of essays are appearing in major magazines and on websites, including Vogue.com, Harper's Bazaar (August issue), Saturday Evening Post, and Quartz. com. Click on the book for the latest news! We'll be celebrating the publication in NYC, Washington DC, and Boston this fall.
ME, MY HAIR AND I is a PEOPLE magazine PICK OF THE WEEK!
FOR THE LATEST NEWS ABOUT the book, please visit my blog by clicking HERE:
http://elizabethbenedict.blogspot.com
______________
My new essay, "What We Talk About When We Talk About Money" appears in the 50th anniversary issue of Salmagundi, with a group of essays on money I edited by Ricky Moody, Howard Norman, and Phillip Lopate. Salmagundi is the international quarterly founded in 1965 by Robert Boyers, now housed at Skidmore College. For a copy of my essay, please email me with the title of the essay in the subject line of the email.
From my essay about money: "In Light Years, James Salter writes: "Life is weather. Life is meals." But no, life is money. Money and stories of money. Who among us does not have a hundred of them? A thousand? Anecdotes, dominant narratives, comedies, tragedies, aphorisms, moral tales, and of course jokes. They come bunched in themes. Wanting money. Needing money. Feeling foolish for wanting more. Feeling crappy for not having it. Fighting over it. Having it, then losing it. Getting too much too fast — all those sad lottery stories that I read and think, I wouldn't do that if I won $400 million! Anger at those who have too much. At leaders who answer only to money, who choose money over justice, corporations over people, profits uber alles."
My first two novels, Slow Dancing and The Beginner's Book of Dreams, are now available as e-books for all devices through Open Road Media.
Take a listen to my recent conversation about writing about sex in fiction, with Late Night Library's Doug Silver.
My first anthology, Mentors, Muses & Monsters: 30 Writers on the People Who Changed Their Lives
(with contributions by Cheryl Strayed, Joyce Carol Oates, Jonathan
Safran Foer, Michael Cunningham and many others), was chosen as the
Barnard summer reading book for incoming first-years, and I gave a
keynote address at Barnard's orientation in August 2013. Buy the
paperback or the e-book for your Kindle here.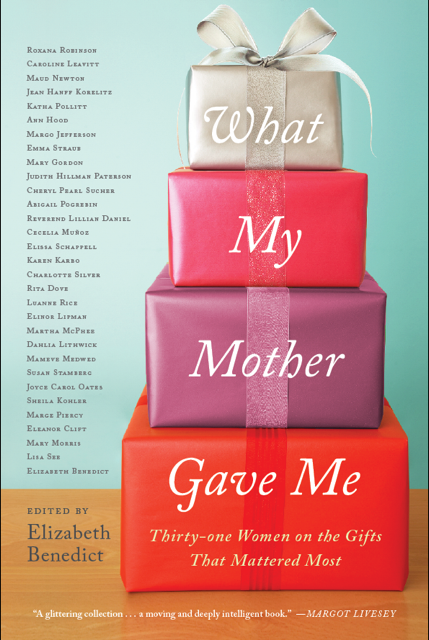 Thanks for making What My Mother Gave Me a New York Times Bestseller!
Visit the book blog for the latest news!
Watch the You Tube video of our evening at the New York Society Library with contributors Margo Jefferson, Martha McPhee, and Roxana Robinson.
Listen to our NPR interview, on "Tell Me More" with Michel Martin.
We're one of Amazon's Top-10 Book Picks for Mother's Day!
Click here to see photos of the gifts from the book and the mothers – and submit a photo and story of your own.
Huffington Post: "A Book My Grandmother Would Like—Finally!"
LISTEN IN! If you couldn't make our DC debut at Politics & Prose with Susan Stamberg & Eleanor Clift, you can listen here, thanks to Slate!
Follow us on Facebook and Twitter.
Wed. May 1st, 7pm, Porter Square Books, Cambridge, MA. Join Mameve Medwed, Charlotte Silver and me.
Tues. May 7th 6.30, New York Society Library, 53 E. 79th St., NY NY, RESERVATIONS REQUIRED. Join Margo Jefferson, Martha McPhee, Roxana Robinson, and me.
Thurs. May 9, 7:30pm, Greenlight Books, Fulton St. Brooklyn, Join Mary Morris, Maud Newton, Elissa Schappell, Emma Straub, and me.
Our kick-off event: Tues April 9, Susan Stamberg, Eleanor Clift & me at Politics & Prose
Click here to read about other events & latest anthology news
Click here to send in photos of your mother's best gift to you & to see photos of the gifts & the mothers in the book
Click Here to Read PW's Rave!
"Each essay is beautifully crafted, and editor Benedict provides the
perfect balance of emotions. For anyone trying to understand
mother-daughter relationships, this collection provides the answer."
Do you have a favorite gift from your mother? An object, a trip you
took, a way of being that comes directly from her? After my mother died,
I became obsessed with a beautiful scarf she gave me several years
before, her last present to me—which you can see part of in the picture
to the right. I wore the scarf around my neck in winter and got
compliments often. Whenever I thought I'd lost it, I panicked, but I
never spoke to anyone about what it meant to me—because I couldn't put
my complex feelings into words.
Last year I began to wonder if other women had such a gift from their
mothers, and I asked thirty remarkable women that question. Here are
their answers. And my own too. Watch for the schedule of events
beginning in April. Pre-order. Tell your mothers, tell your daughters,
tell your friends. From Cathleen Schine: "WHAT MY MOTHER GAVE ME is a gift to all of us."READ MORE…
CHECK BACK SOON FOR APRIL AND MAY BOOK EVENTS!!
Now in Paperback (& Kindle & Nook)!!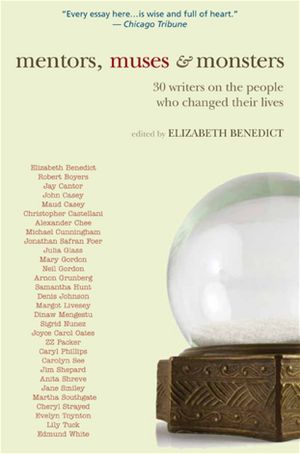 Mentors, Muses & Monsters: 30 Writers
on the People Who Changed Their Lives
"Irresistible … these exceptionally animated essays feel as though the writers couldn't get the words down quickly enough. And what an array of experiences and voices." — Booklist
"This anthology is that rare gem, a collection whose whole is greater, even, than the sum of its parts. Where else could you read musings-about-muses, accompanied by juicy tales from deep inside the writing life, by 30 of the best minds of our generation, all between the covers of one book?" — San Francisco Chronicle
"Every essay here–from Benedict's own remembrance of Elizabeth Hardwick to Christopher Castellani's 'Coming of Age at Breadloaf'–is wise and full of heart." — Chicago Tribune
From my preface to the paperback: "Every book is special to its author or editor, but this anthology has a particular place in my affections for several reasons. When I asked the writers whose work you are about to read to contribute to the collection, I knew what they wrote would be good — but there was no way of knowing just how good each of these essays would be.
As they arrived in my e-mail inbox, one after another, and I read them sitting at the screen, I often felt the wind knocked out of me. It was clear from the depth of feeling and the care lavished on each sentence that the writers had devoted themselves to this project, to these tender and complex tributes to the people, books, and events that had altered the course of their lives…."
Click Here to Request…
"Murder One: Mad Dog Taborsky and Me,"
Notable Essay, Best American Essays 2009
Click Here to Read…
"A History of Violence" on the Death Penalty
in Connecticut from the NY Times
"If I Could Speak Chinese,"
on Narrative Magazine.
"Will Adopt Asian Girl, No Problem,"
on The Huffington Post.
"Losing Mum and Pup,
A Liberal's Guilty Pleasure"
on The Rumpus
Do You Need an MFA to be a Writer?
Click Here to Listen…
Elizabeth Benedict on ABC Radio Australia talking about The Joy of Writing Sex, August 2009
Available in paperback.

The Joy of Writing Sex: A Guide for Fiction Writers
is the classic guide to writing excellent sex scenes, used in writing
programs in the US and abroad. With her characteristic wit and insight,
Benedict offers practical advice on writing about sex, along with 45
examples from contemporary fiction, and interviews with 15 writers,
including John Updike, Carol Shields, Alan Hollinghurst, Dorothy
Allison, Russell Banks, Stephen McCauley, John Casey, and Edmund White.

"Read it because it will teach you everything you need to know about
writing good fiction, whether your characters are having sex or having
breakfast. This book is a course unto itself, and Elizabeth Benedict is a
very fine teacher." – Peter Carey

"Her wit is as sharp as her eye, and twice as fast. She writes the
hard, horrifying truth about human nature, and it is addictively
entertaining… A rare find…." – Newsday
Available in paperback.
"The great life of this book arises out of Benedict's judicious and
sometimes startling mastery of language. The casual dialogue here and
the descriptions of the ordinary remind me of Raymond Carver's short
stories." – Maureen Corrigan, Fresh Air, NPR
Available in paperback.
Other News Items
"Happy families are all alike. Every happy family touched by murder
is shattered in its own distinctive way." Read Elizabeth Benedict's
recent New York Times Op-Ed about her family history and the evolution of her thoughts on the death penalty.
Look for Elizabeth Benedict's contribution to Bad Girls: 26 Writers Misbehave (W.W. Norton) edited by Ellen Sussman.
Elizabeth Benedict's interview on Writers on Writing, UC Irvine's KUCI radio program with Barbara deMarco, recently became available for download here as part of KUCI Talk On Demand Archive.
Essays Available
Elizabeth Benedict's essay, "What I Learned About Sex On the Internet," published in Daedalus, was chosen as a Notable Essay of 2007, in The Best American Essays 2008 (Houghton Mifflin). Please click here for a free copy of the essay.
"Mad Dog Taborsky and Me," is Elizabeth Benedict's new essay in Daedalus
on the effect of her uncle's infamous murder on her family. In 1960,
Joseph "Mad Dog" Taborsky was the last man executed in New England for
45 years, until 2005. Benedict grew up haunted by the murder that took
place two months before her parents' wedding, but did not learn the
adult version of the story until after her parents died in recent years.
Click here for a free copy of the essay.O